This week's BOW AWARD Nomination is from Aaron at
Iron Sharpens Iron
. He said "I want to nominate Jenni- Big Weiss Blog. I love her perspective and wisdom every week!" Thanks Aaron!
Do you know of an Assembly of God Blog deserving of this award? Nominate them! (Click the Award button in the sidebar.)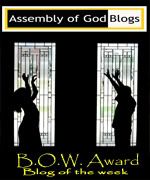 1. What is the title of your blog:
Big Weiss Blog
2. What is your blog's address?
http://bigweissjen.bravejournal.com/
3. Tell us about yourself:
My name is Jenni and I live in Kansas City, Missouri. I have a passion for God and a ministry called "Expectant Prayer Ministries".
I am Mommy to six (plus one loveable dog named Winston), wife, Home Educator, involved in ministry... honestly, I wear whatever "hat" I need to! Many of us wear several hats a day. He's the potter- we're the clay. He's molded me into several different vessels for different reasons.
I was asked to note some accomplishments; well success in God's eyes is what I am most concerned with- like staying true to God for example; through the good times as well as the bad. I hope I've accomplished that and keep accomplishing that until He comes! Whatever we do for Christ will last- nothing else will.
Our accomplishments aren't often announced from the rooftops, they're whispered in tender moments. My favorite "accomplishments" are when we've been able to make a difference in someone's life (even if we're only in their life for a little while) by shining God's light, love, and truth. My most valued moments are when I've walked with people through prayer during the most difficult times of their lives; divorce, terminal illness, loss of a job, loss of a child or other tragedy - and still see THEM staying true to God. It's an accomplishment when you've been a shoulder to cry on, arms to hug, feet to walk along side of someone, or hands to give. I've also enjoyed leading my own children to a relationship with the Lord. You can't ask for more in life than to see your children serve the Lord!
I like studying End Time Prophecy, reading the Bible, Theology Books or Non-Fiction Christian Literature, & Exhaustive Concordances.
I love the outdoors; gardening, sports, walking, swimming. I like animals. I like being creative. I love playing with my kids. I'm big on family, laughing, and taking time to enjoy life. I enjoy singing and writing music.
4. What do you blog about the most?
My blogs are mostly thoughts about what God has me thinking/praying about during the week.
5. Do you have any other blogs that you write or co-write?
Nope. Nada. None.
6. When did you start blogging?
I started writing a blog when my first book (Expectant Prayers for Expectant Mothers) came out in 2006. I used it to connect to my target ministry base and now have added many more new friends other than expecting mothers. I wanted people to know that I am a REAL person with honest thoughts and feelings.
7. What or who prompted you to start blogging?
My big Sis (Sharon) got us set up with a website (again, connected with Expectant Prayers). She had a blog going and said it was easy. She showed me how and wahlah. You CAN teach an old dog new tricks!
8. How did you learn about Assembly of God Blogs?
My Sister (Sharon)
a. If you learned about it through a blog or blogger, and remember the blog or blogger, please list that blog's title, and address.
hoosierfamily06.blogspot.com
9. What has blessed you the most about Assembly of God Blogs?
The variety of blogs it offers, an avenue to share our faith with those who don't know Him, and FINALLY a way for people... A/G people...to connect. I expect it to keep growing and growing as word gets around! The phonetic of Sharon's (A/G Blog owner) "hoosierfamily" rings true. Who's 'yer family? When we're in the body of Christ... we're all related! It's nice to stay connected to the family.
10. Is there anything that you would like to add?
Thanks for the nomination and for those who read my blog… I am honored. Love the button... good work DaNella!